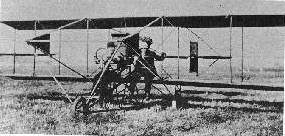 Bill Stark

High speed and danger tend to appeal to a certain type of individual, so it was hardly surprising that a well-known Vancouver auto racer, Billy Stark, took up flying.

Since there were no flying schools in Canada in 1911, Stark went to San Diego, California, to enroll in the only aviation school on the Pacific coast. Glenn Curtiss, the world-famous aircraft designer and builder, was giving expert flying instruction in the hopes of selling his airplanes to successful students. Stark progressed through the complete course, learning aircraft handling and repair and basic engine maintenance. In an era when aviation mechanics and riggers were all but nonexistent, each pilot had to know enough to keep his machine operating efficiently and safely. His life depended on it.

Billy Stark returned to British Columbia with his pilots licence and a new Curtiss Flyer.

On April 24, 1912, Stark took Daily Province sports editor Jim Hewitt up for a flight. Hewitt, who was British Columbia s first air passenger, related his impressions of the flight to his readers:

'A trip up one of the express elevators of a modem skyscraper can give one more thrills than a journey with Billy Stark. The ascent was made so evenly and so gradually that the peculiar falling-away sensation which is experienced in the elevator was altogether lacking. The forward movement was responsible for this no doubt. Once in the air the strong rush of the wind kept me so busy hanging on to the rigging to prevent being swept out of the machine backwards that I had no occasion to worry about falling. My only fear was that I might be blown out into space. We dashed through the air at a pace which approximated, as the aviator informed me afterwards, about forty miles an hour, and the feeling was somewhat similar to that which would be experienced on the cowcatcher of an express locomotive traveling at top speed against a head-on gale. The descent was for all the world like the drop of an elevator, but even then it was not so perceptible as the descent of one of those speedy express lifts.'

óDaily Province, April 25, 1912

Later that same day, Olive Stark became the first woman airplane passenger in Canada. She sat beside her husband on the lower wing of his Curtiss, bundled up against the cold, looking both proud and apprehensive.

Stark s Curtiss was typical of pre-World War I machines. It was a "finely tuned" mass of wire, bamboo, inter plane struts, and spruce, covered by stretched and doped fabric. The engine was a six-cylinder, water-cooled. "V"-type, which was fueled by a gasoline tank mounted above it to permit gravity feed. A single steering wheel controlled height and direction of flight. Flying wires stretched between the wings had to be properly tightened to ensure structural strength. Very light in weight, these machines were easily damaged in their all-too-frequent crashes.

Stark was injured late in 1912, after making numerous personal appearances at events around the province.