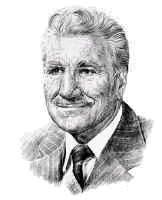 Sheldon Luck
His Canadian Aviation Hall of Fame citation reads:
For nearly five decades he has displayed resourcefulness with the highest order of professionalism in his devotion to the advancement of aviation, which together with his qualities of leadership, have been of outstanding benefit to Canadian aviation.
During his aviation career, William Luck participated in barnstorming activities and pioneered the establishment of commercial scheduled services from the Yukon to Vancouver, B.C. In 1942, he joined Canadian Pacific Airlines as Chief Pilot. Few pilots in the world have flown in such diversified areas. He has been intimately involved as an aviation administrator and in all areas of flying activities including: bush pilot, charter operations, airline pilot and aerial fire fighting. After flying for over 51 years, Luck compiled over 26,000 hours as pilot-in-command on 57 different types of aircraft.