Inductees

C. C. (Carl) Agar
Russ Baker
Gordon Ballentine
Doug Campbell

Raymond Collishaw
Ginger Coote
Ted Cressy
Flying Seven

W.W. Gibson
A.E. Godfrey
Hampton Gray
Les Kerr

Sheldon Luck
Dan MacIvor
Grant McConachie
Jack Schofield
Art Seller

Jim Spilsbury
Bill Stark
Margaret Rutledge
Bill Templeton

DeHavilland Beaver
BC Aviation Council
Conair

Contact Us
Tel: (250) 456-7794
Email:
postmaster@bcaviation.com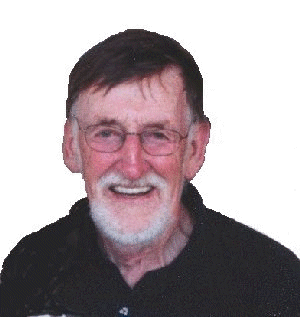 Jack Schofield
by Garth Eichel, Editor, Canadian Aviator Magazine.

Jack Schofield grew up in Vancouver during the Second World War. Airplanes always figured large in his youth and he spent many hours with the "bicycle brigade" at the Vancouver Airport fence longing to fly the aircraft of that day. He belonged to the Royal Canadian Air Cadets for three of those war years and, at war's end, took flying lessons from Vancouver's U-Fly and the Aero Club of BC, soloing on Tiger Moths and the then new Cessna 120. In 1946, he joined 442(F) Reserve Squadron at Sea Island Airport as a trainee aero engine technician while building time for his commercial pilot's license.

The many experienced pilots returning from wartime duties who were suddenly available for commercial flying thwarted Schofield's early attempts to obtain employment as a "100 hour wonder," so, he reluctantly took employment in the sales department of a large electrical manufacturer while continuing to fly privately. This employment lasted for some twelve years before he returned to aviation, flying a Cessna 172 seaplane for a First Nation's organization formed to install communication systems in coastal Native villages. This contract was followed by a four-year period as a flying salesman for an electronics parts supplier operating between Victoria and Prince Rupert, along the B.C coast. His first employment with a commercial airline came in 1972 when he was assigned to fly a Cessna 185 floatplane for an airline based out of a remote bay in the mid coast area of BC. It was here that, as the only pilot, he became known as "The One-Man Airline." Adventures in this flying job provided much of the material for his first, award winning book, published by Douglas & McIntyre years later, under the title, "Flights of a Coast Dog-A Pilot's Log."

In 1978, Jack joined the Campbell River seaplane operator, Gulf Air Ltd., as a line pilot flying Beavers and Single Otters on local charter and scheduled flights. Gulf Air was one of the seven coastal airlines bought out, in 1979, by the Pattison Group. The airline was re-named, AirBC, and Schofield was transferred to that company's base at Port Hardy where he would fly amphibious Beavers and Otters and BN2 Islanders into the logging camps, native villages and fishing resorts of the area. During this period, Jack painted the Port Hardy Airport mural honouring the many airlines and many pilots who had operated from this north island airport from 1945 to the 1980s. To this day, the sixteen-foot mural hangs over the baggage carousel at YZT.

In 1982, Schofield acquired a class 3 and class 4 license and a Beaver aircraft from Air BC. He formed Orca Air Ltd., based out of Alert Bay and Port McNeill on northern Vancouver Island. The airline was quite successful but the partnership failed, after 6 years, and Schofield sold out, returning to Port Hardy to fly for Trans Provincial Airlines (TPA) who were then operating that base for AirBC.

Following a short flying contract in the Northwest Territories and a stint in the western Arctic for an aerial survey outfit, Schofield hung up his David Clarkes and turned to writing about British Columbia's amazing aviation history. He published these accounts, often illustrated with his own drawings, in magazine format under the title, BC Aviator. This magazine was distributed only to the BC aviation community but distribution was ultimately expanded to include the Prairie Provinces and Washington State. To accommodate this increased distribution the publication was re-named, West Coast Aviator. Later, when expanding the magazine to Canadian national distribution, Schofield changed the name to Aviator, which, while maintaining the western flavour, added new writings and new writers embracing the entire Canadian aviation scene. In addition to Aviator, Jack created an in-flight publication for Vancouver based, Pacific Coastal Airlines, and another, similar publication, for Kenmore Air in Washington. These publications, along with Aviator Magazine, were recently sold to Vancouver based, OP Publishing Ltd., (Pacific Yachting & BC Outdoors etc.)

Following the sale, Jack devoted full time to summarizing his early writings in a new book just published by Sono Nis Press, titled, No Numbered Runways-Floatplane Pioneers of the West Coast. Jack considers the most important contribution made by BC Aviator Magazine and its successors was the 50th anniversary conference commemorating the DeHavilland Beaver and the commissioning of BC aviation artists in the creation of six paintings depicting historic highlights from BC's flying history. The original paintings now hang in the restaurant area and on the mezzanine of YVR's south terminal. The paintings, for which there is, as yet, no commemorative plaque, are there under the stewardship of the BC Aviation Council to whom they were donated by the magazine. In addition to its own contribution, BC Aviator Magazine raised much of the cost of the paintings from the local aviation industries and from individual aviation enthusiasts.

Schofield, who now resides on Mayne Island, continues to write BC aviation stories and has just completed a one-hour series screenplay for television titled Blackie's Coast. He is actively seeking the financing needed to produce the pilot episode of this dramatic series.