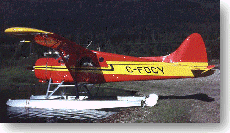 de Havilland Beaver

August 16, 1947 was the first flight of deHavilland DHC-2 Beaver, the first STOL aircraft built by de Havilland..
The Beaver was designed and built in response to the demands of Canadian bush operators. With its all-metal construction, high-lift wing, and flap configuration, the Beaver was a robust aircraft with excellent short take-off-and-landing capability even with heavy loads. In addition to its success in Canada, the Beaver found acceptance in other countries all over the world.
Although not ordered by the RCAF, some 980 served with distinction in the US Army and US Air Force.. 1,631 aircraft were built between 1947-67, with deliveries to 60 countries.
The Beaver was such a success that more were built than any other aircraft designed and manufactured in Canada. In 1951 it won both the US Air Force and US Army competitions for a utility aircraft. Many were used in Korea, where it was known as the "General's Jeep".
Specifications

Wing Span: 48 ft (14.6 m)
Length: 30 ft 4 in (9.2 m)
Height: 9 ft (2.7 m)


Weight, Empty: 2,850 lb (1,293 kg)


Weight, Gross: 5,100 lb (2,313 kg)


Cruising Speed: 130 mph (209 km/h)
Max Speed: 160 mph (258 km/h)
Rate of Climb: 1,020 ft (311 m)/min


Service Ceiling: 18,000 ft (5,490 m)


Range: 470 mi (756 km)


Power Plant: one Pratt & Whitney R-985 AN-14B Wasp Jr., 450 hp, radial engine .