Doug Campbell
1920 - 1999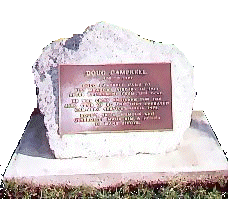 Private and recreational aviation in British Columbia owes much to individual AMEs operating at small airports throughout the province. who's love of aviation and generousity helped pilots keep their aircraft in the air.
Doug Campbell represents these special people in aviation, he was 'A friend to pilots'.
His friends placed a plaque at Pitt Meadows Airport in his honour. It reads.
Doug Campbell came to
Pitt Meadows airport in 1963
after retirement from the RCAF.
He was Chief Engineer for the
Aero Club of BC and then operated
Cam-Aero Services until 1994.
Doug's skill, humour and
generousity made him a friend
to many pilots.
The editorial work on this page continues.
If you have information to share regarding
this Inductee, please contact us.