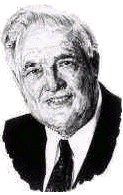 1928
Les Kerr

His visionary leadership in pioneering the development of aerial application technology has made Conair Aviation Ltd. the world's largest operator of aircraft used for special aerial delivery systems constituting a major contribution to Canada's aviation industry.
As the visionary founder of CONAIR Aviation Ltd., Les Kerr has had a significant influence on aerial delivery systems worldwide. Kerr helped to make CONAIR one of the world's largest operators of special purpose aircraft used for fire detection and suppression, oil slick dispersal and aerial application of fertilizers and insecticides.

Over 50 CONAIR designed delivery systems are in operation around the world.